I've got a little crush on Butch Bloom – the bottom in this video from Bareback That Hole. He looks like a total slut, and I LOVE sluts – they're just a lot of fun to fuck. And he's got a great little fuck boy body that's sorta muscular – I like the lines of his body. When you see him you just want to fuck him and dump a load in his hole. And his punk demeanor shows he's been around the block and probably up for just about anything. And the smile on his face indicates that he's not going to be a prima dona about anything – he's just there to get fucked.
Joey Milano the top isn't bad either. The funny part is I usually like Latinos better than white guys, but in this case I like Butch better than Joey. I think it's 'cause Butch is a bottom and I'm a top. Joey just seems like too much of a top (or at least he gives the impression of being a slightly difficult bottom). On the other hand, when he's on all fours, ass in the air, getting rimmed by Butch… If I walked in a room and saw him like that – I'd fuck him in a second… 🙂
If you like hot, "regular" guys, you'll love BarebackThatHole.com – check it out! They know how to pick regular guys who just love sex. And ultimately, that's who you want to have sex with. The pretty boys just make sex too complicated…
See More Piggy Barebacking @ BarebackThatHole.com
Joining BarebackThatHole.com gives you access to these other sites:
18 U.S.C 2257 Record-Keeping Requirements Compliance Statement
Deep in the heart of the Amazon rain-forest, our hero, Collin O'Neal has gone in search of black gold for WorldOfMen.com , and it looks like he found it.
International relations envoy Rodrigo Beckmann welcomes O'Neal by encouraging him to reconsider Brazilian beef by serving him a tasty meal of big, black dick. Little does this studly ambassador realize that just a few drops of a stranger's pre-cum in his throat transforms O'Neal into an insatiable fuck monster. It isn't long before Rodrigo is using his own tonsils to lube this hairy stud's rock hard cock, before feeling it pushed up into his firm round butt. What follows will blow your mind.
Catch the flying cock-sauce now at World Of Men
See More Hot Hunky Men At Collin O'Neal's WorldOfMen.com
18 U.S.C 2257 Record-Keeping Requirements Compliance Statement
One look at Josh Harris and you will know why Collin O'Neal started World Of Men.
As soon as you check out this hairy, young muscle, your mouth will start watering,  and you will know why Collin is so quick to get the friendly dude out of his jockeys. The writer/director/star doesn't waste a second before dropping down for a little foreskin feast, sucking the giant's uncut cock before flipping the big kid around and showing us his fuzzy asshole. Just one tickle from the mature man's tongue is all it takes, and soon Josh is squatting over Papa's cock ready to play "Ride the Pony".
Don't take my word for it- Listen to what your balls are telling you and go to WorldOfMen.com now.
See More Hot Hunky Men At Collin O'Neal's WorldOfMen.com
18 U.S.C 2257 Record-Keeping Requirements Compliance Statement
Can you imagine if we ALL could suck our own cocks? There wouldn't be any war because we would all be in our private places sucking the juice out of nuts! Since most of us can not, we are more than happy to watch a hot fucker like AlphaMaleFuckers' Kurt Rogers do the deed and seed his own mouth ta boot! This solo scene starts out nice with Kurt playing with his fat uncut cock. While stroking, he pulls back the foreskin to reveal a glistening head.
While watching some porn, Kurt starts getting into it. He hoists his lower body up and his knees come down to either side of his head. What we see is pink butt hole just begging for cock to stuff it, but we get is Kurt stroking and lapping at his cock. Teasing his dick head with the tip of his tongue and covering it with his foreskin is a pretty hot scene. Click here to watch Kurt beed his own mouth with jets of cum.
See More Hot Hairy Guys at AlphaMaleFuckers.com
Joining AlphaMaleFuckers.com gives you access to these other sites:
18 U.S.C 2257 Record-Keeping Requirements Compliance Statement
The men at  Alpha Male Fuckers are always testosterone fueled and ready to work off a load of cum.  In this scene, tattooed and hairy hunk, Ross Hurston is helping to train the bald-headed stud, Marco DeBrute on how to improve his boxing moves.  While watching Marco's muscles flex and throb while he's moving around the boxing ring, the man-meat in Ross' gym shorts starts doing its own flexing and throbbing.  Pretty soon, Hurston's big cock is out and Marco is wrapping his mouth and throat around it.  They both take a turn rimming each other –and these men have mad rimming skills.   Especially, Hurston, who looks like he could eat hole all day.  You gotta love a hot masculine man who just loves ass like he does.   But, after his tongue gets Marco's hole all wet and sloppy, it was a hot surprise, that it was Ross who was begging for his fuck hole to be filled up with dick.  Marco is glad to oblige, pinning him to the floor and sliding his thick rod deep inside Ross.
To see more of these boxers and other athletes gone wild, go check out the hot ment at AlphaMaleFuckers.com.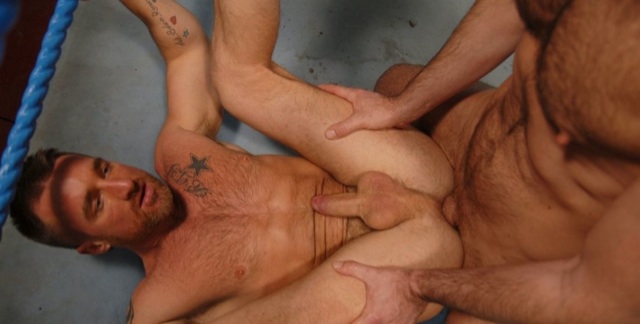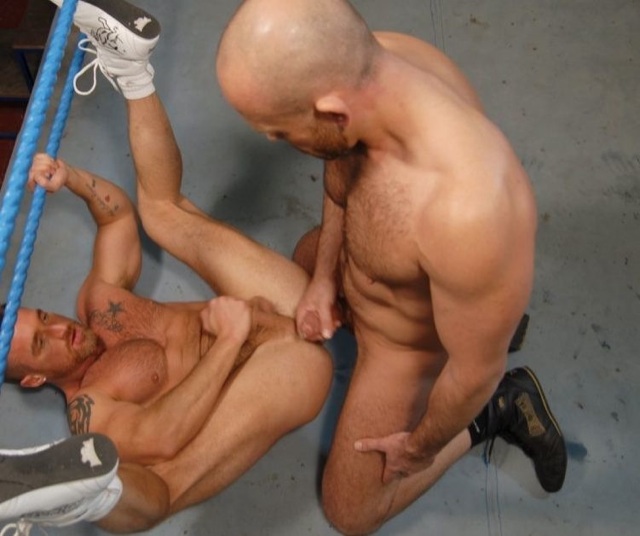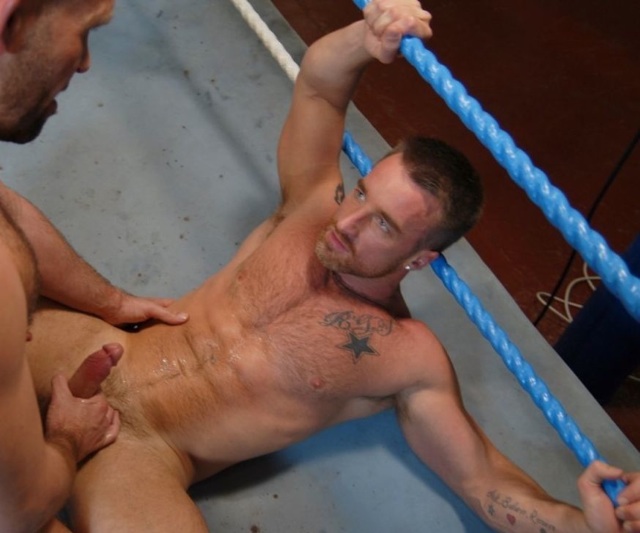 See More Hot Hairy Guys at AlphaMaleFuckers.com
Joining AlphaMaleFuckers.com gives you access to these other sites:
18 U.S.C 2257 Record-Keeping Requirements Compliance Statement