Twisted Pig's Muscle Men Porn Blog
While you usually think daddy/boy relationships are about a top daddy and a submissive bottom boy – that's not always the case. You see that in action in this scene from Dudes Raw which features muscle bear daddy Buzz Isaac bottoming for boy Ethan Wolfe.
While Buzz had Ethan in a cage for a while and Ethan goes some serious service to Buzz's cock, at the end of the day what Buzz wants serviced is his hole. And Ethan delivers on that with gusto – fucking Buzz with his pierced poz cock and giving him a load. After all, what better way for a daddy and boy to bond than with the exchange of poz cum?
I just think it's hot that such a masculine muscle stud like Buzz would be bottoming for poz dick. I know I'd fuck him in a second if I had the chance.
If you get into seeing hot masculine men fuck raw, head over to DudesRaw.com and check out all their action – they're real sex pigs over there!
View the full scene on DudesRaw.com
18 U.S.C 2257 Record-Keeping Requirements Compliance Statement
The muscle hunk you see here – Xavier from MuscleHunks.com – is almost too pretty to be considered a "real man" – and 5 or 10 years ago he probably was too pretty, but now he's clearly all man. Real men are imperfect and those imperfections are what are hot – like the scars a warrior would pick up in battle.
Bottom line some men just look hotter as they age and aren't so pretty and Xavier is one of those guys. His tattoos look like he's been around the block and experienced life. And his body is a man's body – big, solid, muscular – the type you want in bed with you at night. And his beard just tops it all off perfectly.
Now if we can just get him to show his dick… 😉
Like big, hunky muscle guys? Then head over to Muscle Hunks and get your fill of big beefy guys…
See More Hot Muscle Guys At MuscleHunks.com
18 U.S.C 2257 Record-Keeping Requirements Compliance Statement
Circling the globe in search of the perfect piece of meat,  UK Naked Men, knows grade AAA beefcake when they find it.
Pedro Andreas has been working for a while, but these vintage stills reveal how he got his start. This stud brings the full package to the table, stunning face, sculpted body, scrumptious ass, and a big uncut cock that just won't stop. It's hard to know where to start with such a fuck-o-licious Argentinian boner buffet.
If you are hungry for studly, muscle men with no inhibitions, go to UKNakedMen.com right now!
View the full scene on UKNakedMen.com
18 U.S.C 2257 Record-Keeping Requirements Compliance Statement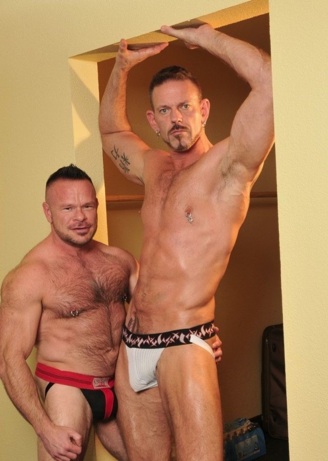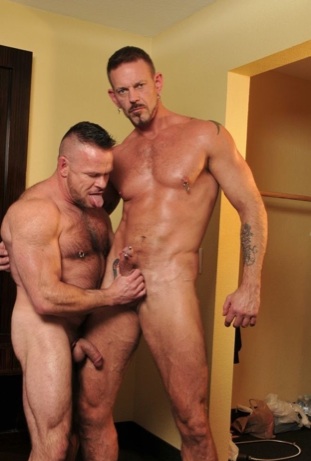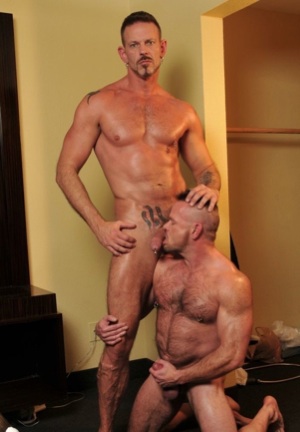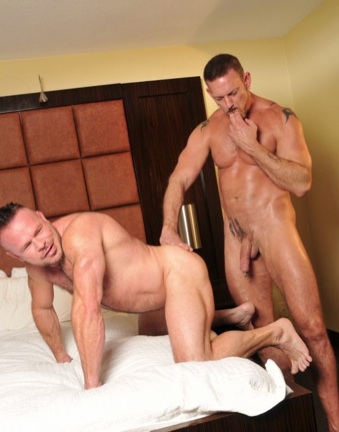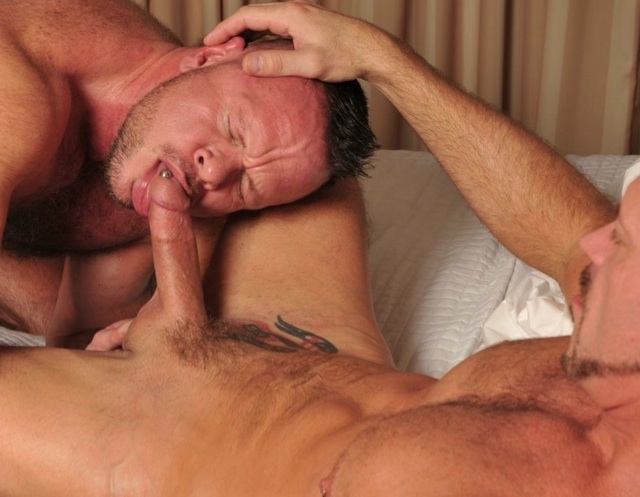 The filthy studs here at Bareback That Hole know that explosions happen when opposites attract.
And talk about stunning opposites. Lean, inked stud Colin Steele is a AAA prime example of a giant man with a giants dick, and furry power-bottom Peter Axel could not be happier. This cum hungry cub/stud uses every play in his book to get the spunk out of this big bully's balls, and believe me, he is well rewarded of his efforts!
If you're serious about seeing some of the Best Butt-Sucking,Raw Fucking, Cum Guzzling on the web, Tap IT,  right here, right now at BarebackThatHole.com.
See More Piggy Barebacking @ BarebackThatHole.com
Joining BarebackThatHole.comgives you access to these other sites:
18 U.S.C 2257 Record-Keeping Requirements Compliance Statement
If you are looking for men who fuck like men, then check out the hairy cock-o-holics at TIMFuck.com.
Be careful if you claim that you can't get enough cock. Mark did, and look what happened to him? Treasure Island Media put him on the bottom of a dog pile, but it doesn't look like his hairy stud is complaining. This raunchy sex pigs use this guy's fuck holes every way they can, pounding a pint full of cum into him before the host sucks it out. These mature muscle men have no limits.
TIMFuck serves bareback spunk worship at its best! Check it out NOW!
View the full scene on TIMFuck.com
18 U.S.C 2257 Record-Keeping Requirements Compliance Statement
If you have ever wondered what it would be like to see a handsome, young camper mauled by two rutting animals, check out what's going on at Fetish Force this week.
Get ready for the 'Tail of Golden Cock and the Two Twisted Bears."  When a smooth, blond jock wanders off the beaten path, he comes a cross two rough and hairy, muscled daddies playing a game of "How Much Can You Take?"  He's pretty, but not too smart, and ends up way too close to these mating beast. Bam!Smack! He's  finds himself the filling in a thick, sweaty cock-meat sandwich!
Steve Parker, Lance Gear & Brendan Austen do a little of everything from Flogging to Cock Sucking, Nipple Torture to Dildo Fucking  here at FetishForce.com. Listen to him scream, Boo Boo!
See more extreme sex scenes at Fetish Force
18 U.S.C 2257 Record-Keeping Requirements Compliance Statement